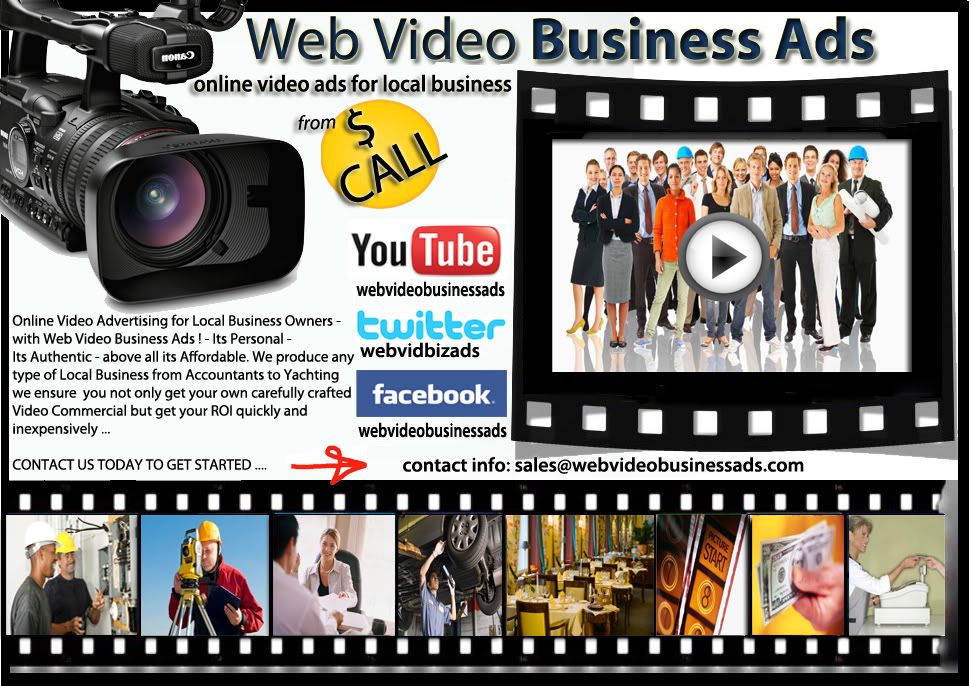 Video Production
Leading research company eMarketer reports from a recent survey that more than two thirds of respondents are now already focusing their budgets upon Web Video this year..with the market expected to grow to $2.3 billion by 2011...Your competition knows it and is clamouring to get on board,book your video production now and get ahead...
Web Video SEO
Video SEO fast tracks traditional SEO. By having your video at number 1 your business logo and brand are effectively presented to your target demographic grabbing that all important market mindshare Google only shows one or two videos in a set of results which makes this a unique method for your business success
Web Video Marketing
Our Web Video Business Ads clearly announce your business story and our web publishing platform promotes your business video throughout the web including adding it to your business web site, matching your business video to Googles Places listing and distributing it throughout the internet to the sites that matter to your customers including all leading social networks
Web Video Sales
Web video marketing, creation, and syndication is all the buzz right now in the new media and social revolution.When syndicating your videos, you'll need to know where to send them, how to get traffic to them, keyword optimization, and how to use the free and paid distribution video systems we are here to assist you generate sales based on these factors
Latest Posts
Web Video Business Ads
0
Qumu, a video platform provider, has created a new B2B video marketing campaign targeting IT professionals.
0
The average US web user spends about four hours per month on social media networks and Brightcove has found that video shared on social networks generates a higher engagement than other web video marketing content.